One of Kenya's leading public institutions, Kenyatta University is dedicated to its core functions of teaching, learning, research and service to community, the nation and the world. In addition to the main campus, which is located on expansive grounds approximately twenty kilometres north of Nairobi city on Thika Road, the University has ten other campuses spread across the country. Kenyatta University has fourteen schools which run a rich array of programmes in diverse ways including full-time, part-time, face-to-face, online, day and evening.
---
Olive Mugenda (Research Development Advisor)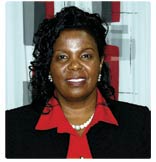 Olive Mugenda is current Vice-Chancellor of Kenyatta University as well as Professor in the Department of Community Resource Management Extension. A former Head of Department, Dean of Faculty, Deputy Vice-Chancellor, Dr. Mugenda is the first woman Vice-Chancellor of a public university in the East Africa region. Dr. Mugenda has, over the years, built an international reputation as a university teacher and researcher. Dr. Mugenda obtained a Bachelor of Education (First Class Honours) from Kenyatta University in 1979. Her masters and PhD degrees in Family Studies and Consumer Economics were obtained from Iowa State University. She has supervised numerous Masters and PhD theses and won several research grants and served as technical adviser and resource person to numerous workshops in and outside Africa. Among the numerous researches she carried out, the current one on Improving the Performance of Girls in Science and Mathematics in Secondary Schools serves as a model project that has been nominated for a Commonwealth Education award. She has published numerous scholarly papers and books and she has received several scholarly awards. Dr. Mugenda serves on the board of a number of continental and global bodies including the Association of African Universities (Board Member) and International Association of University (Vice-President). Involved with BHER from its inception, Prof. Mugenda provides institutional vision of KU within the BHER initiative.
---
Josephine Gitome (Education Consultant)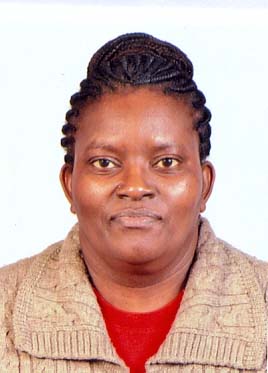 Josephine Gitome has been the Director of the Center for Refugees Studies and Empowerment since 2012; this center has been mandated to provide coordination to Refugee Education, partnership and research in the area of refugee studies and empowerment with like minded stakeholders.
Her key areas of research include: youth counseling; HIV and AIDS preventive measures; community and poverty eradication; and gender-based studies. Her service to the community in Kenya includes being a founding organizing secretary to a teen's association Puberty to Adulthood Camps Kenya (PACK) whose vision is to raise adults of integrity who are God fearing and have a focus in Life.
Dr. Gitome studied Sociology and Religious Studies at the University of Nairobi for her Bachelor's level and graduated in 1986 (Upper 2nd Class Honors). She completed her Master's Degree in Religious Studies at the University of Nairobi and graduated in 1989 with a thesis entitled Pastoral Care and Counseling to Educated Young Adults in the PCEA Church Kikuyu Parish, Kenya. She obtained her PhD from Kenyatta University in 2003, focusing on Pastoral Adolescent Counseling. Dr. Gitome has served Kenyatta University as a lecturer for the last 22 years in the Department of Philosophy and Religious Studies. Because of her in-depth knowledge of the Dadaab camps and the research on youth education, poverty, gender and youth empowerment, Dr. Gitome is theprincipal faculty contact of Kenyatta University in the BHER Consortium. She liaises with all programs offered through Kenyatta University including the Diploma in Teacher Education – Primary, and the degrees of Education and Community Development and Extension.