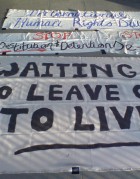 We are delighted to share with you the inaugural issue of Refugee Review: Social Movement(link is external), an open-access and peer reviewed e-journal of the New Scholars Network(link is external).
You will find numerous works from researchers, practitioners, and advocates in the form of working papers, practitioner reports, discussion series, and interviews. Many of those involved in contributing to this project are in the early years of their careers, or they have participated in the review or production of material from established scholars. We welcome these new contributions and hope to continue to encourage new conversations and publications as part of this international network.
Please consider following us on Twitter(link is external) or checking our website(link is external) for periodic updates. Several authors featured in our e-journal will be taking over our Twitter account for a week at a time to share their thoughts on important information in their geographic area or subject of expertise or focus. (If you would like to participate, please don't hesitate to contact us to join this endeavor.) Please find a direct link to both the website and text versions of our e-journal below.
Cheers,
Brittany Wheeler
President, New Scholars Network
Keywords/phrases:
Refugee Review
New Scholars Network
e-publication