Malian farmers and livestock, forced south by conflict, put pressure on land and water resources in the borderlands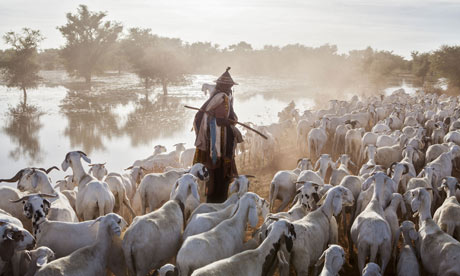 A Malian shepherd leads goats on the road to Massina, near Mopti, 2013. Photograph: AFP/AFP/Getty Images
The movement of hundreds of thousands of cattle from Mali is threatening peace across the border in Burkina Faso, where tensions are mounting as Malian refugee pastoralists come head to head with local agricultural farmers.
"They don't even say hello, they don't ask but they just take things," said Hamidou Tamboura from Djibo, near the site of the refugees.
"They are hot blooded, and when their animals come on your land you cannot chase them away, as they receive protection from international organisations. We share the same vegetation and the water resources, but they get extra support."
Nomadic tribes have crossed the porous borders of these large territories for centuries in search of pastures to graze their cattle, a phenomenon known as transhumance.
Farmers from Niger normally go to the Gao region in Mali between December and February for a special herb called bourgou. However, the security situation has prevented them accessing the region, and they remain stuck in Burkina Faso.
Meanwhile, cattle farmers from Mali, who are not usually part of the transhumance, are being forced south to Burkina Faso by the conflict, putting additional pressure on the same land occupied by the nomadic tribes from Niger. Many are afraid to return.
"Even though the Islamists have been defeated, we still cannot go back. The Malian army are killing the civilian population and many are being accused of sympathising with the Islamists," said Idoual Ag-Bala, a refugee from Gao.
"We know there is not enough food and water for the animals in Burkina Faso. We're hopeful for peace. As soon as there is peace we will go back."
According to the UN high commissioner for refugees (UNHCR), about 47,000 refugees have crossed the border since Islamists took control of northern Mali in early 2012, some of them bringing their livestock with them.
Latest figures from Oxfam (pdf) estimate that between 100,000 and 200,000 animals have entered Burkina Faso, Mauritania and Niger. In one camp in Burkina Faso there are three animals for every person, said the report.
The large influx of animals has put considerable pressure on both land and water resources still recovering from the shock of the 2011 drought and the resulting Sahel crisis in 2012.
A May 2012 report by Réseau Billital Maroobé (pdf), a network of pastoral farmers across Africa, had already warned of the potential challenges posed by increasing refugee numbers.
"There is a big risk that we will run out of food and water. We need an early warning system so we can see where shortages might arise," said Boubacar Cissé, director of Conseil Régional des Unions du Sahel (Crus), a farmer's organisation that works in the Sahel region of Burkina Faso.
"The Ecowas [Economic Community of West African States] countries know that this needs a regional response. The Burkina Faso government said they will try and mobilise food for the cattle," he said. "At the same time, we need to raise the awareness of the security forces in Mali so that they can distinguish between farmers and rebels."
Crus has started to put out "antennas" around the region to monitor the migration of pastoralists, but little else has been done from the Ecowas side. "It's almost like we need a UNHCR for cows," said one aid worker.