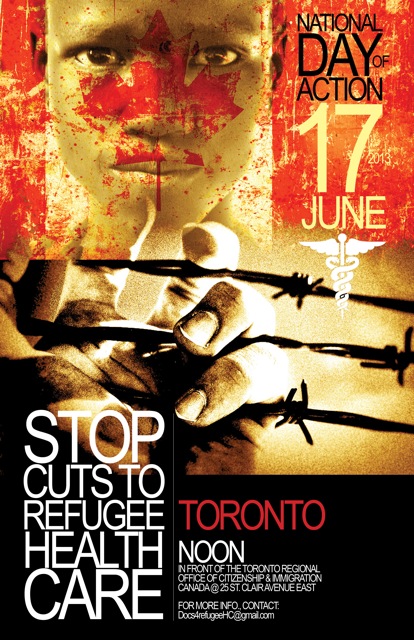 Despite widespread opposition from a broad group of health care workers across Canada, the federal government has implemented cuts to health insurance for refugees. As predicted, many are suffering as a result. There have been well documented cases of people being denied care including pregnant women and sick children. Over 20 national health care organizations including the Canadian Medical Association, Canadian Nurses Association and the College of Family Physicians of Canada have issued statements against the cuts
Health care workers join others in continuing to speak out for those who do not have the opportunity to do so. Join us on June 17th for the second National Day of Action against refugee health cuts. It is an opportunity to show the Federal Government that Canadians will stand up for the most vulnerable among us. We will not allow for this ill advised policy to continue to harm refugees without adding our voice to those opposing these cuts. We will be persistent in drawing attention to this issue.
Health care workers and others will be staging protests across Canada. The protests are being sponsored by the Canadian Doctors for Refugee Care. To date, events are planned in the following cities:
Vancouver,Calgary, Edmonton, Saskatoon,Winnipeg, Kitchener, Hamilton, Kingston, Toronto, Ottawa, Montreal, Halifax, St. John's.
In Toronto, join your colleagues in front of the CIC office at 25 St Clair Avenue East on June 17th at noon. If you are a health care worker please wear a whitelab coat. All are welcome. We are asking those attending not to bring banners of organizations to which they may belong or represent. We want to clearly show that we are individual health care workers concerned about the cuts to IFH and are not driven by groups with broader or different political agendas. It is imperative that we have a large turn out. We look forward to seeing you there
Please forward this email to your networks.
Meb Rashid MD
Philip Berger MD
on behalf of the Canadian Doctors for Refugee Care