World Refugee Day 2013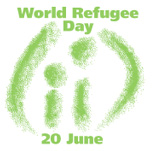 1. The focus of World Refugee Day 2013 is on the impact of war on families. The core message is "1 family torn apart by war is too many."
2. The campaign call-to-action is to "Take 1 minute to support a family forced to flee."
In 1 minute, a family can be torn apart by war, a child can be separated from his or her parents, and a lifetime of work can be destroyed. Yet in 1 minute, we can also act – reuniting a family, protecting a child, providing shelter. Please donate now and help UNHCR assist refugees. Your 1 simple action will help thousands of uprooted people today.
3. Photo Gallery:
UNHCR has launched a project sourcing photos and stories from forcibly displaced people from around the world, who show and describe the most important thing they brought with them when they fled from their homes. We encourage our partners and stakeholders to participate in the photo project. More information coming soon, please check back!
4. UNHCR Canada will distribute posters to agencies organizing World Refugee Day events. Please send your request along with a description indicating the type of event you are organizing to appear on www.unhcr.ca/wrd to:
mcfarlan@unhcr.org or nyembwe@unhcr.org
The deadline for receiving requests is 01 June 2013.
En Francais
Journée mondiale du Réfugié 2013
1. La campagne de la Journée mondiale du réfugié 2013 met en avant le slogan « 1 seule famille déchirée par la guerre, c'est déjà trop ».
2. Le HCR lance un appel à l'action dont le thème est « Prenez 1 minute pour venir en aide à une famille déracinée ».
En une minute, une famille peut être déchirée par la guerre, un enfant peut être séparé de ses parents, une vie de travail peut être réduite à néant. Pourtant, en une minute, nous pouvons également agir – par le regroupement familial, la protection de l'enfance, la fourniture d'un abri. Faites un don maintenant pour permettre au HCR de venir en aide aux réfugiés. 1 simple geste peut aider des milliers de personnes déplacées dans le monde.
3. Galerie de photos :
Le HCR a lancé un projet dans le but de recueillir des photos dans lesquelles des réfugiés décrivent et montrent l'objet le plus important qu'ils ont apporté pour leur fuite en exil. Nous demandons au public et à nos partenaires de faire de même via les plateformes de réseaux sociaux en téléchargeant par exemple une photographie d'eux-mêmes avec l'objet qu'ils apporteraient s'ils étaient contraints de fuir en exil. Consultez notre site Web pour plus d'informations.
4. Le HCR Canada distribuera des affiches aux agences qui organisent des festivités à l'occasion de la Journée mondiale du réfugié 2013. Vos requêtes accompagnées d'une description de l'événement à être postée sur le site www.unhcr.ca/wrd doivent être envoyées à
mcfarlan@unhcr.org ou nyembwe@unhcr.org
La date limite de réception des commandes est le 1er juin 2013.
You can download the poster for the 1 Minute Campaign here: UNHCR & also find out about relevant events in your area here : www.unhcr.ca