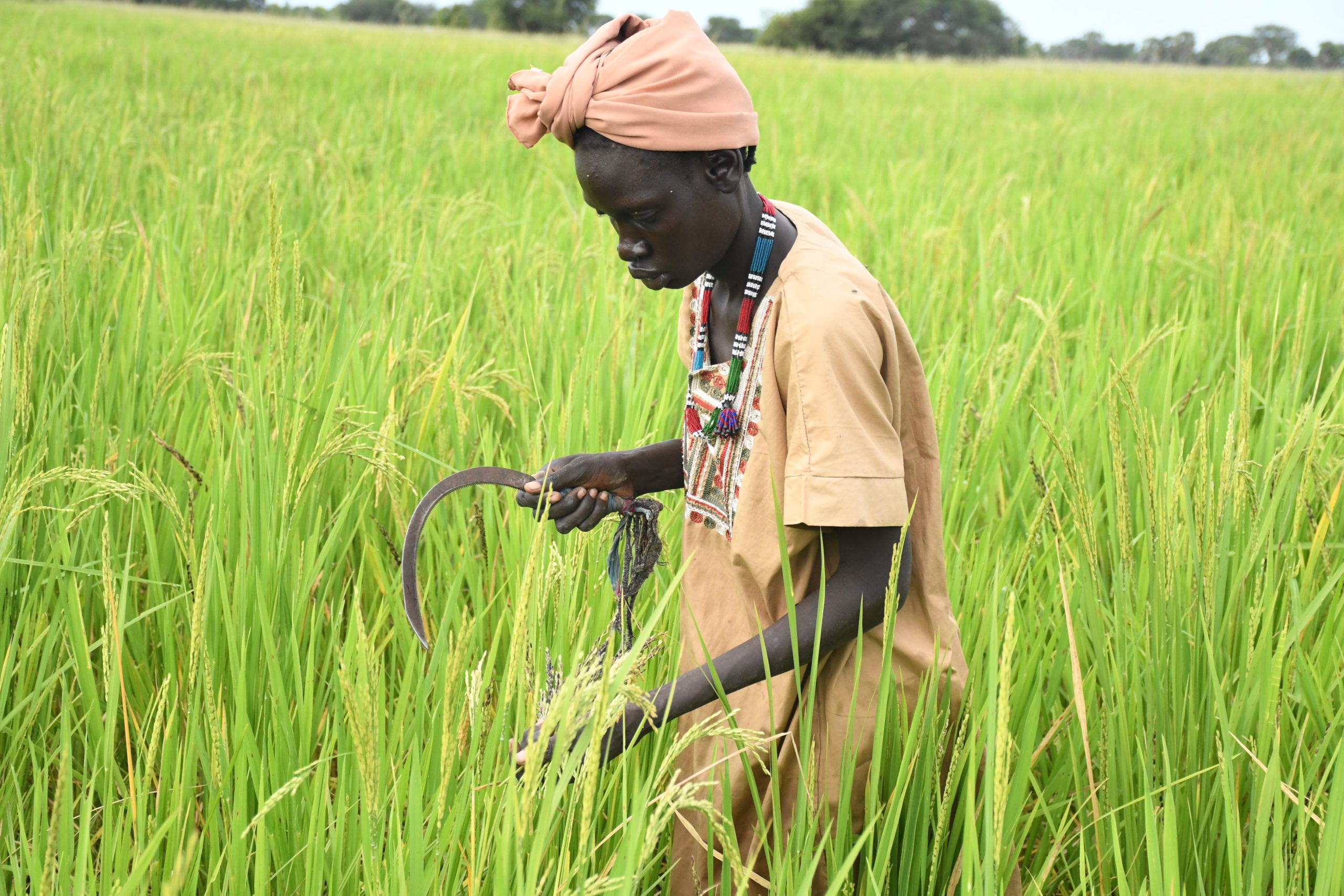 In a long swamp commonly known as Toch that stretches from Turalei in Warrap State to Bentiu in Unity State and possibly beyond according to residents, women soak feet in flood water.
They are baked as the scorching sun reveals its handsome face adorned with piercing rays and the tattered clouds, but with high hopes that at least they will reap sheaves when flood continues.
Their mindset no longer curses away floods, rather wishes floods last longer in order for them to reap adequate to sell and consume.
While harvesting their rice farms, they sing a song of praise to their leaders both in the state and national government that they have resolved to persevere with sun heat because they have accepted to work their rice farms to feed their families.
As one may wonder what is boosting their, rice farming introduced by World Food Programmme (WFP) through Asset Creation and Livelihoods project funded by the Foreign Commonwealth, Development Office (FCDO) is the saviour of the local and vulnerable communities in Warrap State.
In an encounter with one successful woman, Anyiel Mayik, 30, and a mother of five, as she bows to cut the head of rice with sickle in the oppressive sun of Turalei, she is willing to share her success story.
Anyiel harvested five sacks of rice from her rice farm last year, a notable change in her life. She keeps some sacks of rice for family consumption and sells some at either 60,000 SSP or 70,000 per sack each time she harvests.
This year, she has high expectation that she might harvest eight sacks from which she will sell four and use four for family consumption.
"We use it for consumption if nobody has come to buy. If there is a buyer, we sell. People come from Bor to buy rice," she explained.
"I expect to harvest seven or eight sacks this year. If they are eight, I shall sell four and use four for family consumption."
Anyiel has finally attained freedom from the stress of school fees because whenever there are floods, despite others who despair in floods, flooding is now an opportunity to endlessly harvest rice as it regrows after harvesting especially when there is still adequate water.
She has made rice farming a family business and has successfully saved 3, 000, 000 SSP from rice harvest in the last three years of floods. She has trained all her children on how to cultivate rice, stressing that her husband always helped her when he is available because he has no job.
"I keep money to someone whom I know can keep in the bank. I have saved 3,000,000 SSP with a shopkeeper for the last three years," she stated.
"Some people are willing to join but they are not registered."
However, Anyiel is bothered by lack of gumboots to protect her from some insects that bite and enter under the skin as people move about in the 31 feddan rice farm.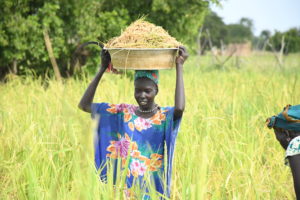 Friends with floods
Abuk Nyuol, who now wakes up early as 7:00 am into her farm proudly harvested adequate rice last year because there was much flooding.
"Last year we got enough produce because there was too much flooding and rice does well where there is a lot of water. This year still, we hoping to get something little although the water is less compared to what we had last year," she explains.
"With rice production, you can get enough for your family feeding, and you can sell some for other basic commodities that you need at your household level."
She ventured into rice farming after gaining skills through targeting of vulnerable people in Turalei payam of Twic County, Warrap State, and for now, she supports at least eight people, five males and three females including herself.
"Rice is a new crop variety in the area, and we learned it from WFP and we have adopted it. The work that I am doing in this field is benefiting eight people including myself; five males and three females including myself," she continued.
Before she was introduced to the project, she was a sorghum farmer and her garden was submerged under water making her harvest nothing to end up being a beggar to her Neighbours.
"And when rice was introduced, rice was doing very well with water and that has changed our lives. Even if the sorghum field the other side, we can also get backup from rice. So, with these, there is a change in our livelihood, my life is now better compared to the previous when the project did not reach our area," she confided.
Despite the fact that rice is a sigh of relief, the major obstacle she witnesses is that cattle and goats destroy rice farms especially when the farms are not fenced properly.
"The challenge that we face with rice farming, one of it is the protection of it from the pests mainly cattle and goats. It is being loved so much by goats and cows and this area has less trees," she continued.
She urges the WFP to help them with barbed wire to protect their farms adding that it would give them the moral to extend the fence and increase the sizes of their farms.
Abuk promises to expand her farm to four feddan after discovering the benefits of rice production. She urges other farmers to improve their livelihoods through rice farming as she offers to impart the knowledge, she has gained to anyone who was willing to be assisted.
"Another thing that I want to give also is an appreciation to WFP for the support and to the donors that are behind WFP, for the good work that they have shown to us," she said as she appreciated the work done by the donors.
Angong Deng Guot; who has a farm at Mangok Amiol, Turalei now supports 15 family members from her rice farm.
Angong had been baking bread for sale but in the process the bread could be spoiled by too much water that she incurred losses.
However, she appeals for an assistance with rice thresher to remove rice hull, bran and germ for get head rice for sale instead of pounding it using mortar and pestle. Pounding breaks rice in the process making it not fit for sale. This has forced farmers to sell the unthreshed rice only.
"Rice farming is helpful to us and we are happy for it. But now, we pound it with mortar and pestle to remove its bran. In the process, it breaks and nobody accepts to buy it in the market. I ask WFP and the government to help us with a machine for threshing rice," she stated.
Once without, now owns assets
Another successful farmer is James Majok Deng who did not have assets before the Assets Creation and Livelihood programme introduced by WFP.
"Before the coming of the organization (WFP), we had nothing. We had been making bread but it was spoiled by water," he explained.
"Then the organsiation came and said, if we give you rice to cultivate in this place with water, will it not grow? We tried it with one feddan, then Carlo said after trying it with one feddan, try again with two feddan. WFP said make yours so that you can consume with your children."
Majok testified that their group at first cultivated 8 feddan of rice which gave them 50 sacks. But currently, he is a proud parent because his children eat well and are in schools.
After reaping, the group got another 31 feddan farm at Mapeer-amaal which is doing well this season more than the first one because that area has a lot of water.
"I am asking those who are not yet cultivating rice to make rice like us. And everyone in Warrap should cultivate rice. If rice is also cultivated in Bor, Aweil because there is too much water in South Sudan," it continued.
He pays school fees for his children from the money he makes from rice farming and calls upon South Sudanese all over Warrap State and South Sudan whose areas are flooded to adopt rice farming.
"My people, it is work that will take us forward. The problem is making it using mortar and pestle. But if there is a machine for processing it by cleaning it, we can take it to the market. We request for a machine to process rice so that it can be bought from here," he continued.
"I am happy ten times, because we have been taught and someone who has not seen us will see us in the video. The work we are doing here is for everyone. Anyone who does not have should come and take from us."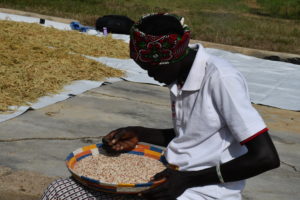 IPC Report
On Tuesday, the United Nations Food and Agriculture Organisation (UNFAO), World Food Programme (WFP) and the United Nations Children's Fund (UNICEF) released the Integrated Food Security Phase Classification (IPC) report which projected that 7.1 million people will be food insecure in 2024, a greater decline from this year's projection of 7.76 million people being food insecure.
The report indicates that the improvement in food insecurity projection is a result of calm in some parts of South Sudan including Jonglei State, Warrap State, and Western Equatoria that led to improved livelihoods, market development and delivery of humanitarian assistance.
It also added that the most food insecure communities lie in areas affected by floods and dry spell, economic crisis, conflict and insecurity, low agricultural production, reduction in humanitarian assistance and the conflict in Sudan.